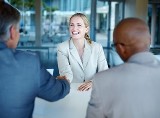 Individual Coaching Programs
We offer 3-month and 6-month programs that include:
Building Blocks of Job Search:
Managing Emotions of Job Loss

Identifying References

Assessing Motivated Skills and Competencies

Creating a Compelling Resume

Writing Marketing Letters, Preparing for and Practicing Interviewing

Mastering Negotiating Techniques

Starting Your Own Business (alternative track)
Giving Our Clients a Competitive Edge:
Reframing myths and negativities about the job market

Identifying, articulating and communicating competencies and unique gifts

Setting the framework for a positive and constructive approach

Targeting a personal niche in a multi-faceted market
The added value of longer, individual programs, as compared to shorter group or individual programs is the ongoing coaching provided. After the toolbox is built and the plan created, we continue with the client through the implementation phase, briefing and debriefing interviews, evaluating and making course corrections as indicated.
There are three criteria typically considered by companies in selecting 3 or 6-month programs: the level of responsibility, the annual salary plus bonus level and the tenure with the company. The greater any of these elements, the greater the individual's investment in the company and the longer the expected timeline for landing the next opportunity.